Fitchburg accommodations are conveniently located near restaurants, shopping, fitness centers, spas and other city amenities like our miles of bike trails. Need help in planning your stay? Contact us today!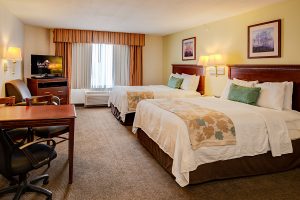 MainStay Suites
5421 Caddis Bend
Fitchburg, WI 53711
(608) 271-3400
An extended stay hotel with 79 elegant suites with full size kitchens. Pool, workout facility, business center, dry cleaning services, free Wi-Fi and conference facilities. Also offers shuttle service to the Dane County Regional Airport. Pet friendly.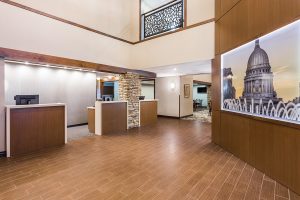 Wyndham Garden
2969 Cahill Main
Fitchburg, WI 53711
(608) 274-7200
Whether it's for business or pleasure, you'll enjoy our beautiful guest rooms and suites with service amenities that will exceed your expectations. Made to order breakfast, swimming pool, exercise room, meeting rooms and a business center. A shuttle from the Dan County regional lAirport is available. Pet friendly.
Country Inn & Suites
6275 Nesbitt Road
Fitchburg, WI 53719
(608) 270-1900
Country Inn & Suites Madison SW offers 69 non-smoking rooms and suites. Amenities and services include a pool area with an 18 person whirlpool and children's play area with atezslide, wi-fi, 24 hour business center, airport shuttle (reservations required) and a complimentary deluxe continental breakfast.
Staybridge Suites
2916 Hardrock Road
Fitchburg, WI 53719
(608) 616-5664
Staybridge Suites is Fitchburg's newest hotel, opening September 2017. The hotel features 100 suites, all equipped kitchens including a cooktop, dishwasher, microwave, toaster, cookware, sink, and a full size refrigerator with ice maker. The property also has an on-site movie theatre, indoor pool, basketball court, gym, putting green, free hot breakfast buffet, and free laundry facilities.
Hickory Knoll Bed And Breakfast
5438 Highway M
Fitchburg, WI 53575
(608) 835-7473
Hickory Knoll is located in rural Fitchburg on Highway M between Caine and Fish Hatchery Roads, six miles south of Madison. The University of Wisconsin, The Alliant Energy Center and State Capital are all within fifteen minutes of the Farm.