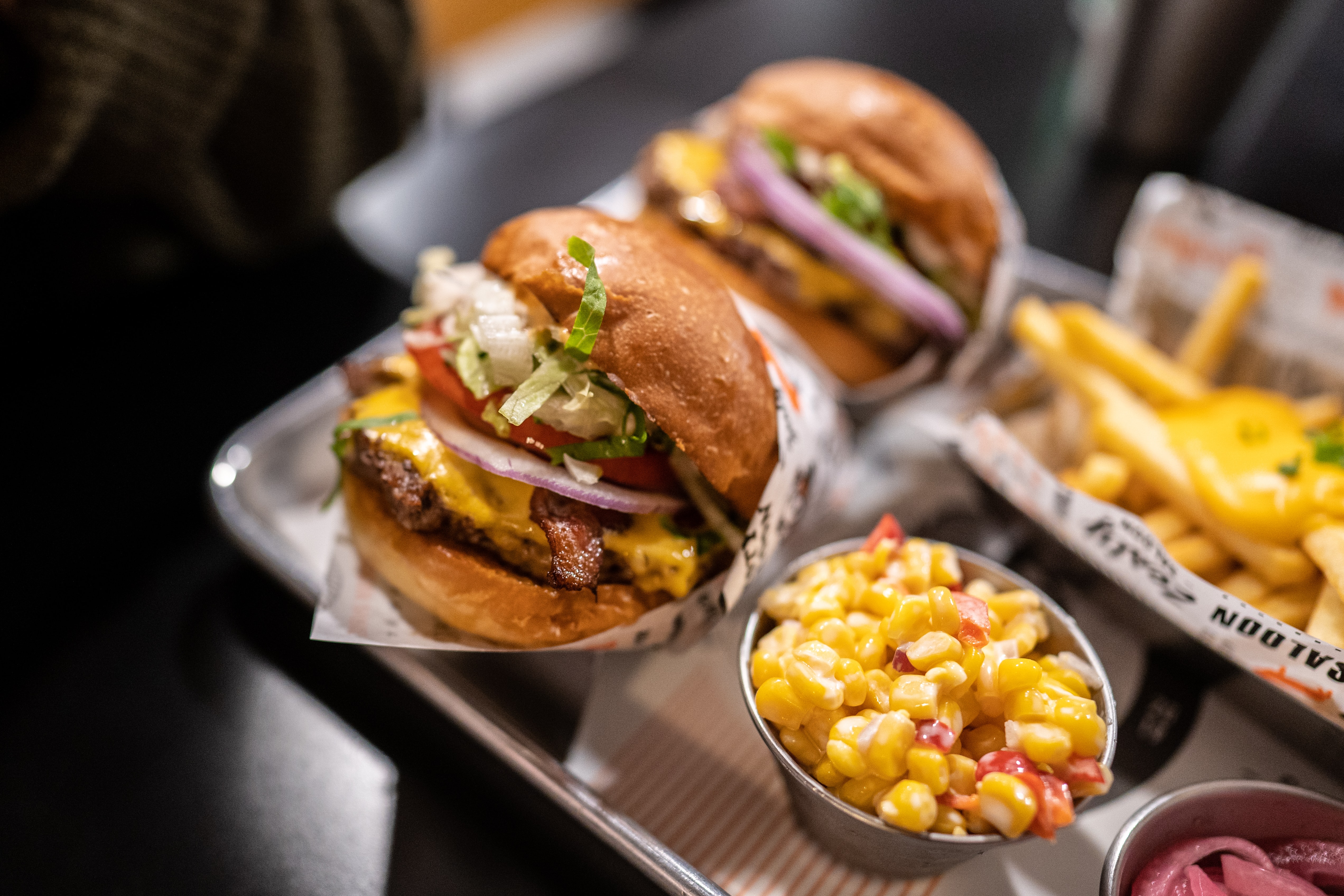 Longtime Fitchburg Favorite, Liliana's Restaurant, was revamped in 2022 and re-opened as Ollie's, a casual and fun new spot offering American cuisine favorites. Chef Dave Heide and his team have created a delicious menu that has a ton of Vegan and Gluten-free options.
Vegans will no longer miss out on Dairyland staples like cheese curds, Mac & Cheese and Cheesy, Deep-Dish pizzas! Ollie's also has an extensive Vegan burger menu and Vegan tofu wings, served with Vegan ranch on the side.
Flying Hound Burger at The Flying Hound Alehouse
Who doesn't love a scrumptious secret sauce? There's no doubt you'll adore it topping the signature Flying Hound burger. This homemade hot pepper mayo adds spicy flair to the burger's Muenster cheese, cherry wood bacon, soft-fried egg, arugula, tomato and red onion.
Of course, you'll wash it down with the perfect beer. There's no shortage on tap with 32 draft lines as well as numerous bottles being served up at The Flying Hound Alehouse, a European pub with a lively atmosphere and pretty patio and fireplace. Watch your favorite game on big screen TVs while enjoying burgers, European entrees like bangers and mash, a Friday fish fry and or other items from their upscale pub menu.
Russian Dumplings at Oasis Café

Owners Kim and Paul Schwoerer tried to take their dumplings off the menu at Oasis Café. The dough pockets are work-intensive and most are slated for their downtown dumpling shop. But Oasis customers missed them too much – the Russian "pelmeni" is a lunchtime favorite at the café.
These delicious dumplings have an Asian flair. Be sure to order both potato and beef – too hard to choose. Made from scratch, the russet potato dumplings are smooth and creamy. Paul uses local beef for the chewy meat version. Both are topped with what makes this dish divine – Sriracha, a curry powder blend, sweet chili sauce, cilantro and sour cream.
There's no shortage of choices if you've had your fill of pelmeni (hard to imagine that would happen). Order up soups and premium sandwiches served on locally baked breads. There's a pretty outdoor space with sun streaking through trellises. Or come in to enjoy the café's warm and modern décor with a cup of locally roasted EVP coffee.
Chicken Tikka Masala at Haveli Indian Restaurant
Devinder Badwal has been serving up Indian food since he opened his first restaurant in Boston in 1988. Lucky for Fitchburg, he and his family now share their flair for incredibly flavorful food at Haveli, welcoming diners since 2013.
Take a tour of Badwal's Indian dishes on their menu. You'll find a treasure trove of foods from all corners of India. From staples like chicken tikka masala to beef kabab, pork curry and fish pakora -- marinated in spices and lemon juice then deep fried. The buffet's spectrum of Indian spices, flavors and colors can't be beat.