BCycle has arrived in Fitchburg! The bike share program will have stations throughout the City of Fitchburg, making it easy to explore the area on two wheels. Electric-assist bikes allow riders of any skill level to navigate hills and long distances with ease. And with convenient station locations, electric bikes are there when you need them and out of the way when you don't.
The stations in Fitchburg include:
More stations will be added throughout the year. Download the bcycle app for more information!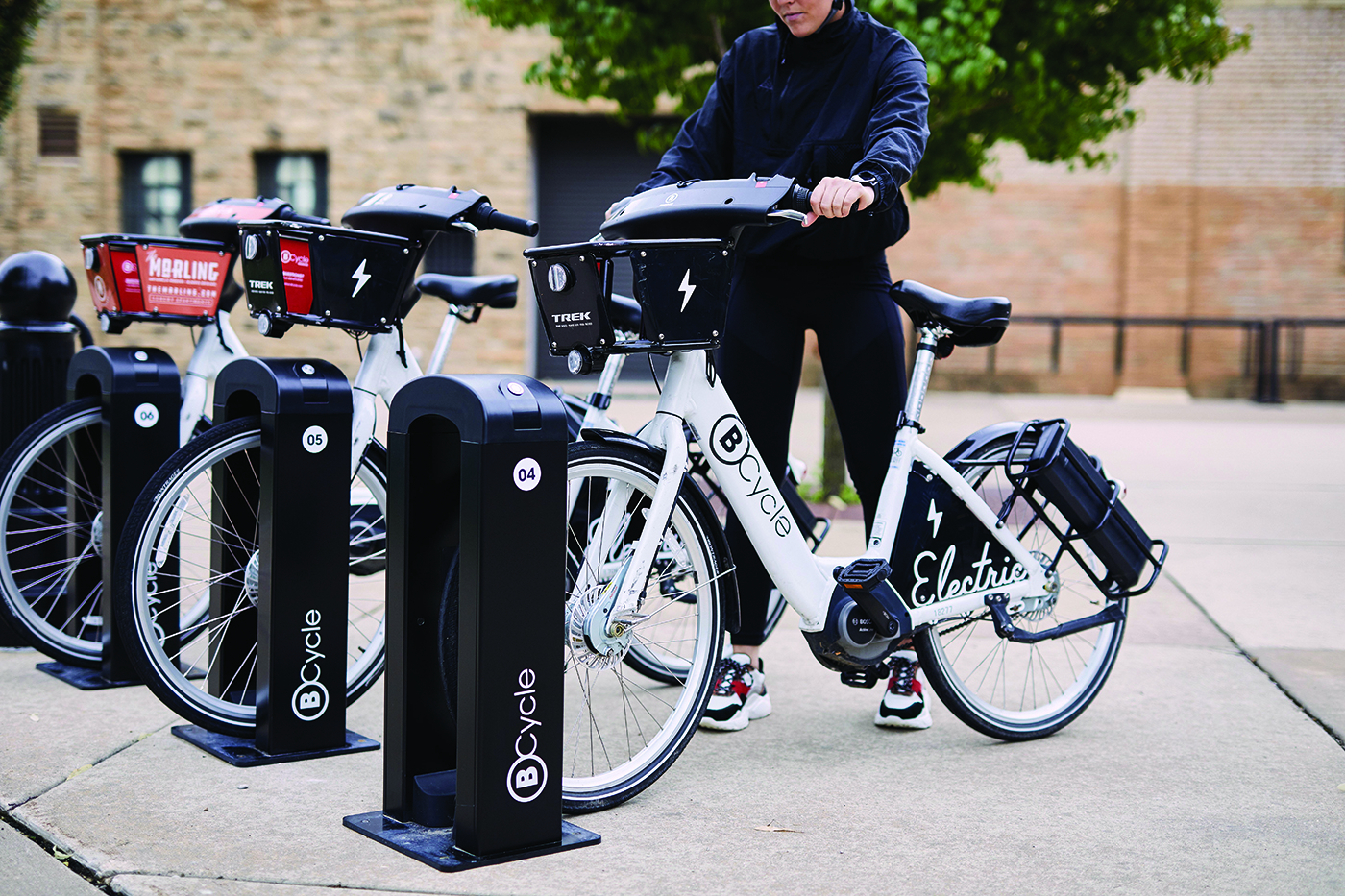 Centrally located in the Madison Area Region Fitchburg is a cycling hub for the full gamut of biking enthusiasts. Designated a Silver Level Bicycle Friendly Community by the League of American Bicyclists, Fitchburg features two mountain bike trails and five recreational rides, three of which are state trails. These trails are some of Wisconsin's finest and can lead you on an adventure to small towns like Mount Horeb or urban centers like Milwaukee or Chicago. Biking in Fitchburg Trail Details.
The roads winding through Fitchburg to other Wisconsin destinations, like Paoli or New Glarus are popular for everyone from weekend travelers to Ironmen and women in training.
Cyclists from around the country head to Fitchburg for weekend adventures, staying in one of the city's hotels conveniently located next to several bike trails.
While you're on two wheels in Fitchburg, veer off the trails to visit the eateries and local events, like the Fitchburg Farmers Market and Concerts at McKee, all easily accessible by well-kept paths and bike lanes.
You can check out the Dawley Bike Hub, a rest stop with a repair station, parking, restrooms, shelter and water and catch three state trails and three paths from here.
Mountain bikes are a fun way to exercise and connect with nature and you don't even need to be in the mountains to become a avid mountain bike cyclist. Wisconsin has some great courses and Fitchburg is home to two of them! Mountain Biking in the 'Burg.
Fitchburg celebrates biking at whole new level with the annual Fitchburg Festival of Speed. The Fitchburg Festival of Speed is an all-day festival taking place July 8, 2023 at the beautiful Agora complex in Fitchburg, Wisconsin. This event should top your list of "Can't-Miss" summer activities, whether you join as a spectator or participant.
For participants, the Festival of Speed plays host to the
Wisconsin Cycling Association
State Crit Championships and winners will be taking home $5,000 in prize money. If you're looking for a more relaxed participation, join us for the beautiful Fitchburg Family Pharmacy 25-Mile Ride to help you explore the hidden secrets of Fitchburg.  Runners and walkers can join in on the fun with the Donor Dash 5K or the 1-Mile Run. The fastest 15 male and female participants of the 5K will go on to participate in the Kwik Trip $1,000 Mile.
Spectating is FREE and open to the public with live music happening throughout the day.
Weather participating in a ride, joining a festival or hopping on the trail for a quick spin out to the countryside, "biking the burg" is the best way to spend time on your bike this summer. #biketheburg