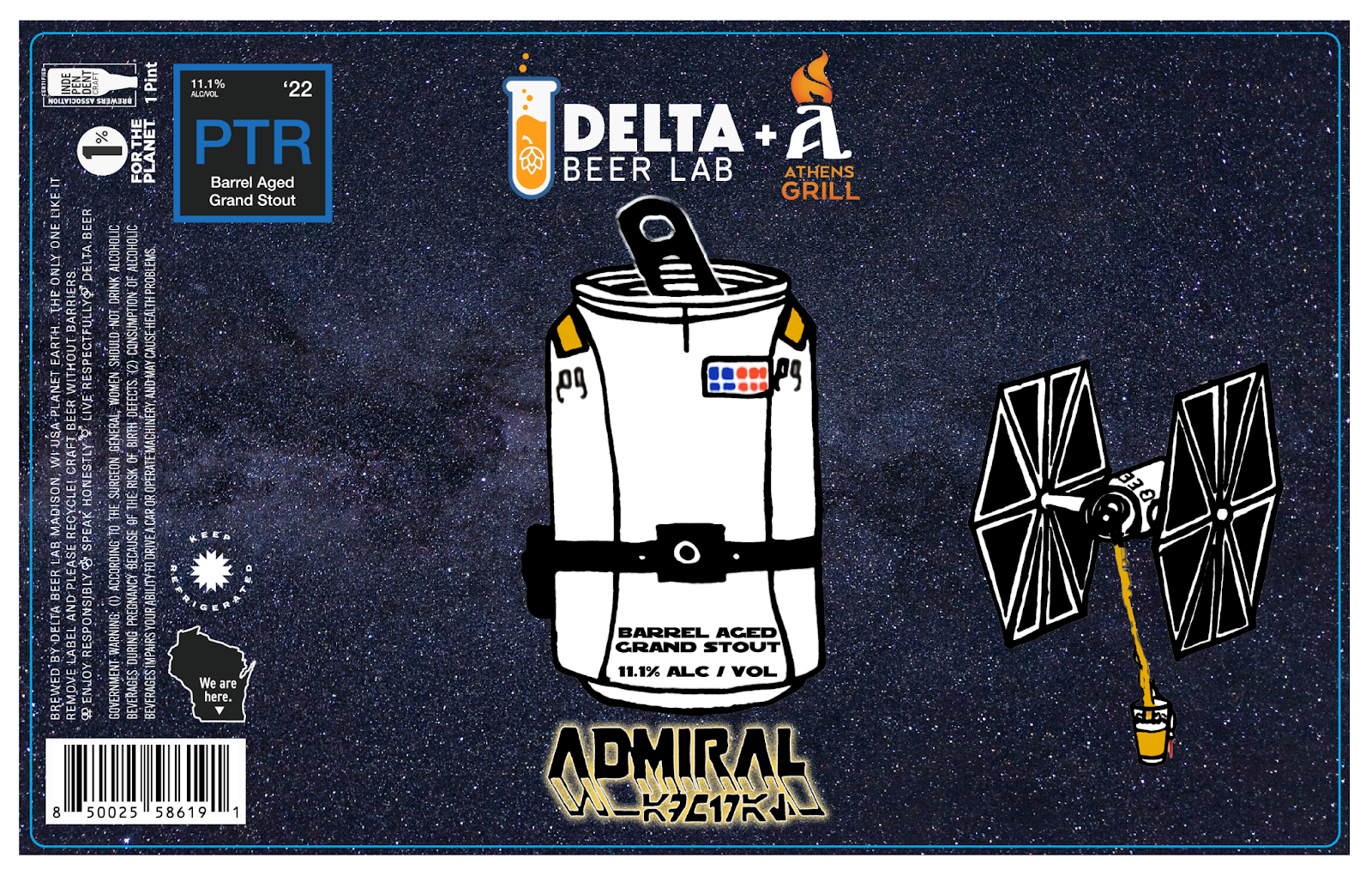 On Friday November 24th, Delta Beer Lab and Athens Grill will simultaneously release two Bourbon Barrel-Aged Stouts at both of their Madison-area locations and additionally at Seven Acre Dairy Company in Paoli.
"We are beyond stoked for the release of these two beers," said Athens Grill owner and bourbon enthusiast Andy Zeigler. "I am excited to have these beers on tap side-by-side to taste the nuances between the different barrels we used for aging the beer."
On Zeigler's most recent trip to New Riff Distilling in Kentucky, Zeigler and team from the Bourbon Republic club hand selected a bourbon to be bottled and sold at Athens Grill. Once the barrel was emptied, the barrel was brought to Delta Beer Lab to be immediately filled with Stout. This single barrel batch of beer yielded only three kegs which will be poured exclusively at Athens Grill, Delta Beer Lab, and Seven Acre Dairy starting on Black Friday. This follows Delta Beer Lab's free Thanksgiving community dinner that will be served in their taproom the day before.
Additionally, Zeigler was able to procure multiple freshly-emptied bourbon barrels from friends at J. Henry & Sons located in Dane, WI. The same 11.1% abv Grand Stout was put into those barrels and allowed to rest for almost a year. After this time they were then blended together canned and kegged. This second more plentiful version of the beer is named "Admiral".
"Because of the negative connotation of the word imperial in relation to imperialism, we took a page from our friends at Giant Jones Brewing's book and decided to label our high gravity Stout as a Grand Stout," explained Delta Beer Lab owner Tim "Pio" Piotrowski. "We choose to draw attention to our decision to call this beer a Grand Stout by featuring a satirical drawing of the Admiral uniform of the Empire from Star Wars on our label. We hope to recognize the vast and devastating impacts of Imperialism throughout our human history - and its ongoing reverberations in our modern world - while also moving beyond it and towards better society."
The release of both beers at Athens Grill will happen simultaneously to the second annual Bourbon Bonanza. A day to celebrate all things bourbon and support those who need it through DAIS (Domestic Abuse Intervention Services). Alongside the Admiral release, Athens Grill will host a one of a kind bourbon garage sale, allocated bourbon raffle, and single barrel tasting.
"Four-packs of Admiral will be available to take home at all three locations on Black Friday," said Zeigler. "We are excited to have folks come in and try the two beers side-by-side on Black Friday, and have the opportunity to take some of the Admiral home to share with their friends and family."