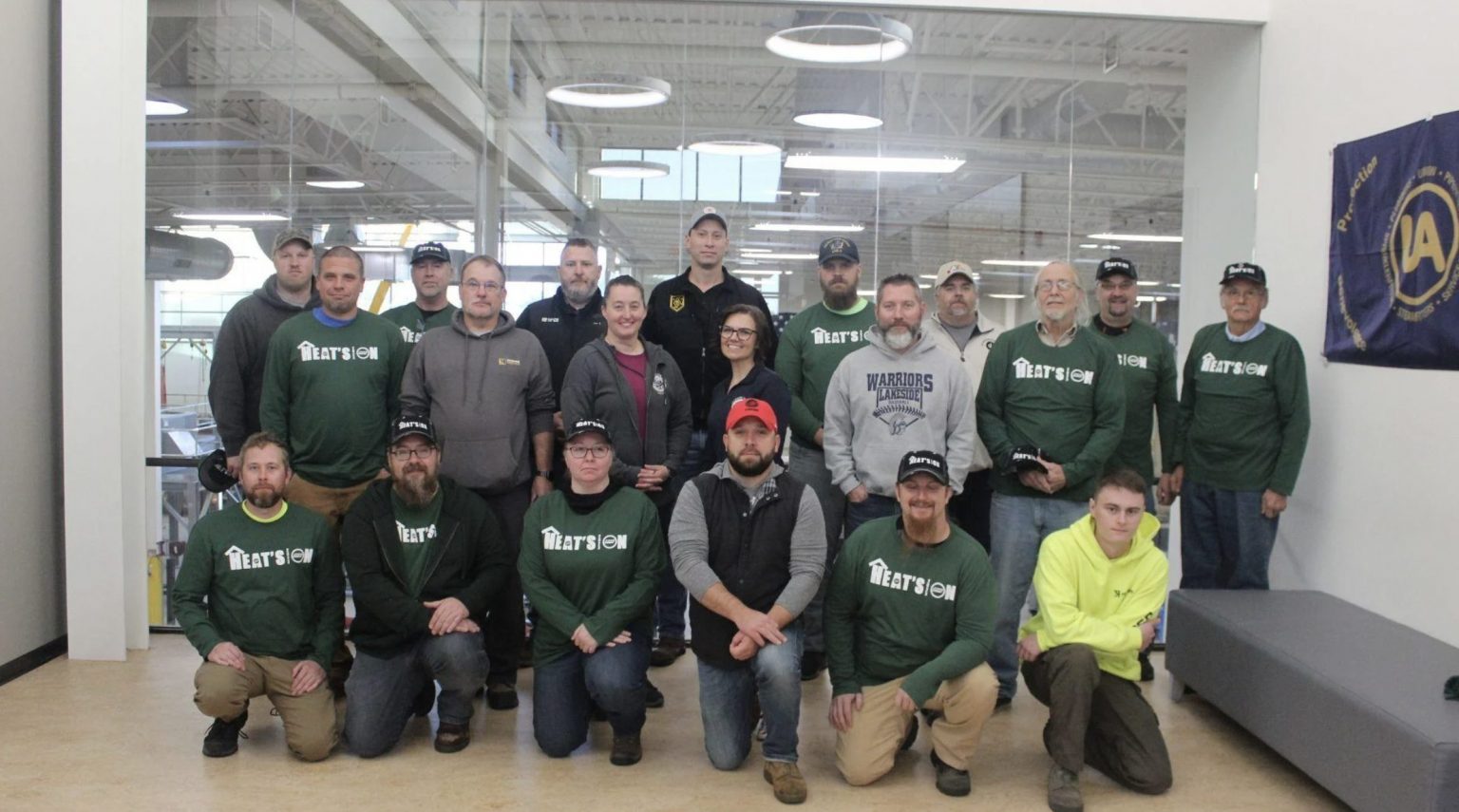 Madison Area Mechanical & Sheet Metal Contractors Association (MSC) and Steamfitters Local 601 hosted the 35th Heat's On event on Saturday, October 21, 2023. Over 50 area steamfitters volunteered a day of labor to inspect and service heating systems in over 70 qualified veterans' homes throughout Dane County. Trucks and equipment used for the day were donated by local union heating contractors, and replacement parts were donated by area suppliers. Veterans signed up for their free furnace checks through the Dane County Veteran Services Office and the Veterans Hospital.
"This program has impacted thousands of lives since its inception over three decades ago," said Brady Farrell, President of 1901 Inc. "Each year, our technicians share stories about their visits with the veterans and the impacts we have made on their lives. It's a pleasure and an honor to be a part of a program that gives back to those who have given so much!"
Heat's On has been serving Dane County residents since 1987 and has performed maintenance services on over 2,600 furnaces. The purpose of Heat's On is to reduce the occurrence of veterans going without heat or facing other life-threatening emergencies associated with home heating systems.
In the past, Heat's On fixed a furnace for a veteran who survived the polar vortex without heat in his home. In addition, the program replaced the furnace of a World War II veteran who had been taken to the hospital twice with carbon monoxide poisoning. The leak in the furnace that was causing the poisoning was discovered and fixed by Heat's On.
Heat's On kicked off the event at the Steamfitters Local 601 Training School at 6310 Town Center Drive, Madison, WI, with breakfast, provided by Beef Butter BBQ, for the service technicians.
Participating Madison Contractors:
1901 Inc., Owner Paul Christensen, phone: 608-268-5945
Air Temperature Services, Inc., Vice President of Sales Ryan Dodge, phone: 608-257-2600
Bassett Mechanical, Area HVAC Service Manager Chad Warnecke, phone: 920-462-1863
Butters-Fetting, Safety Director Brian Tonn, Phone: 414-649-2104
Hooper Corporation, Labor Manager Mike Polster, phone: 608-268-1157
JM Brennan, Inc., Co-President Matt Brennan, phone: 414-342-3829
Illingworth-Kilgust Mechanical, Vice President, Tim Wipperfurth, phone: 608-852-8980
The Waldinger Corporation, Regional Service Manager Tom Duffy, phone: 608-572-7838
Total Mechanical, General Manager of Service Jack Schirpke, phone: 262-522-7108
Participating Supply Houses:
First Supply, Sales Manager Mark Arrowood, phone: 608-223-6674
Gustave A. Larson, Store Manager Zach Klosa, phone: 608-221-3301
Johnstone Supply, Owner Dan Kunze, phone: 608-223-1499
Temperature Systems, Inc., Sales & Refrigeration, Scott Nachreiner, phone: 608-327-2365
For more information, please contact Kim Chacos, Madison Area Mechanical & Sheet Metal Contractors Association at 608-852-0857 or kim.chacos@mechanicalindustries.org.