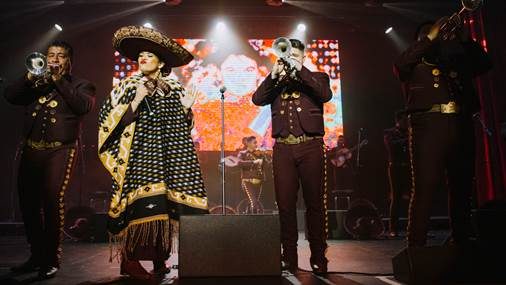 The rich and diverse tapestry of cultures that comprise Hispanic heritage always allow for incredible artistic offerings, but especially during the 2023/24 season at Overture Center. From September 15 through October 15, Overture Center and Madison Symphony Orchestra (MSO) will recognize Hispanic Heritage month with performances, visual art and other programming, and the organizations will continue to feature Hispanic artists and bilingual events throughout the year.
During the first week of October, guests will have an opportunity to engage in multiple artistic offerings that celebrate Hispanic Heritage.
Wednesday, Oct. 4 – Spider-Man: Into the Spider-Verse Live in Concert is an animated movie with a live orchestra and DJ that takes the audience on a journey with Miles Morales into the Spider-verse.
Friday, Oct. 6 – ¡Greg Zelek y Amigos! is a show curated by Greg Zelek, MSO principal organist, with his childhood guitar instructor that celebrates his experience growing up in Miami, and honors Hispanic and Latin composers and musicians. Zelek will be joined by Cuban musicians Magela Herrera, flute, Yarelis Gandul, percussion, and Alex Hernandez, bass, along with Colombian guitarist, Alvaro Bermudez. The performance will be bilingual, which is important to Zelek as a native Spanish language speaker.
Hispanic artistic events continue beyond Hispanic Heritage Month.
Thursday, Oct. 19 – Nicholas Rodriguez returns to Overture Center for a one-night-only cabaret performance of some of Stephen Sondheim's best works. Rodriguez, a native of Texas, is also of Hispanic heritage and works towards making the arts more accessible and diverse.
Saturday, Nov. 4 – Danz Trad performs at Kids in the Rotunda, a free, family-friendly program on Saturdays (9:30 a.m., 11 a.m. and 1 p.m.) held on Rotunda Stage on the lower level of Overture Center. DanzTrad (Traditional Mexican Dance) is a young group created in September 2013 to give all interested people access to Mexican folkloric dance. DanzTrad intends to show and promote culture and art to younger generations.
Saturday, April 13 – Angela Puerta joins Kids in the Rotunda with a performance incorporating Latin beats, Colombian folkloric music and other familiar songs in both English and Spanish. Kids can sing along, dance and explore a wide variety of Afro-Latino songs while having fun. Puerta's interactive show gives kids opportunities to play maracas, shakers, tambourines and more.
Tuesday, Feb. 20 – "Tomas and the Library Lady" and Wednesday, March 13 – "Cenicienta" will be offered bilingually as part of a focus on youth performances for Overture's OnStage student field trips program with area schools. These performances are not open to the public but are important to increase access to the arts for local youth through the Engagement and Education team at Overture Center.
In the spring, Overture Center will also host two other Hispanic artists, and MSO will round out the 2023/24 season with a special concert honoring Hispanic Heritage.
Thursday, March 7 – Eliades Ochoa will perform on the Capitol Theater stage at 7:30 p.m. Ochoa is one of the original members of the Buena Vista Social Club of Cuban fame.
Friday, May 3 – Magos Herrera will perform on the Capitol Theater stage at 8 p.m. Herrera is a Mexican jazz artist based out of New York City.
Friday, May 3 – Sunday, May 5 – Fiesta Finale, MSO's season finale was born from a desire to honor Mexican and Spanish culture and music with symphony compositions and mariachi music. Double Grammy-winning Mariachi los Camperos will join MSO for this concert.
"Our hope is that everyone has access to the arts and feels represented by artistic offerings at Overture Center," says Ida Balderrama-Trudell, Overture Center's director of equity and innovation. "Representation is incredibly valuable in reaching younger and more diverse audiences. We want to create lifelong patrons of the arts while also creating extraordinary experiences."