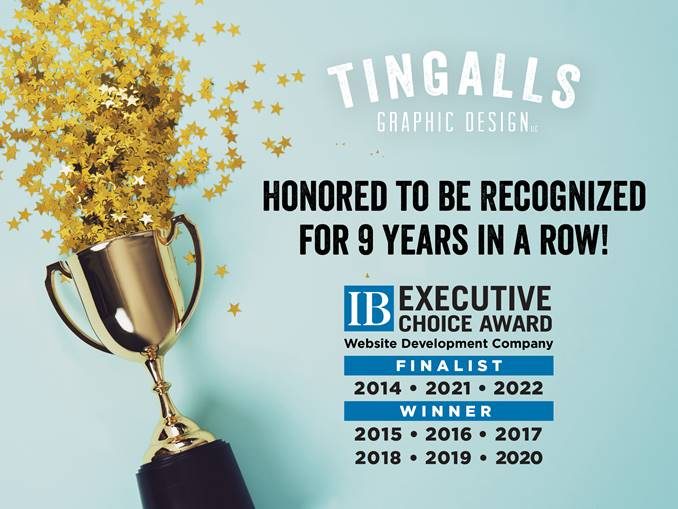 For the 9th year in a row, InBusiness Magazine has recognized Tingalls Graphic Design as one of Madison's most outstanding website development companies. Finalists are chosen by fill-in-the-blank majority vote by Madison executives, business owners, and community leaders, representing the best-of-the-best of the Madison business community.
Serving local businesses in their 23rd year, Tingalls Graphic Design has now helped over 1,300 small businesses, non-profits, and startups revitalize and rebrand their company's logo, website design, and branding. Separating itself through its quick turnaround time, creative marketing solutions, and clear communication, Tingalls continues to provide top-notch service to local businesses.
Under the direction and leadership of Tara Ingalls, the owner and founder of Tingalls, the company continues to innovate in its marketing offerings, helping companies in a variety of ways. "We are so honored to be recognized for our Website Development services for our 9th year in a row. My firm offers a stress-free, creative website design process married with high-end professional copywriting. This helps our clients not only be found but also convert visitors to leads."
One local business owner who hired Tingalls in 2022 was Wesley Morgan, the founder of Spoken Frame Media, who said, "We worked with Tingalls on a website for our video production company. The reason we chose Tingalls was because we wanted a website that was customized to clearly communicate our services and values. Tingalls delivered. With great communication and turnaround time, we were able to get just the website we were looking for. Something that excited us from the beginning was the custom icon designs their designers created for each page. I would definitely recommend working with Tingalls for any of your website or graphic design needs."
The entire Tingalls team would like to thank all of their colleagues and business executives who voted in InBusiness's Executive Choice Awards.
A portion of Tingalls' full portfolio can be viewed at tingalls.com