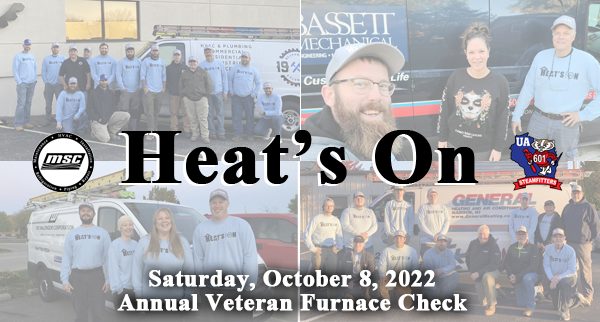 Madison Area Mechanical & Sheet Metal Contractors Association (MSC) and Steamfitters Local 601 will host the 34th Annual Heat's On event on Saturday, October 8, 2022. Over 60 area steamfitters will volunteer a day of labor to inspect and service heating systems in 60 qualified veterans' homes throughout Dane County. Trucks and equipment used for the day are donated by local union heating contractors, and replacement parts are donated by area suppliers. Veterans signed up for their free furnace checks through the Dane County Veteran Services Office and the Veterans Hospital.
"It is an honor and privilege to give back to those who have given us so much," said Tom Duffy, Regional Service Manager in Wisconsin for The Waldinger Corporation. "Each year, we hear stories from our technicians about how this program saved someone and the impacts we have made on their lives. It's a pleasure and an honor to be a part of a program that helps our veterans!"
Heat's On has been serving Dane County residents since 1987 and have performed maintenance services on over 2,600 furnaces. The purpose of Heat's On is to reduce the occurrence of veterans going without heat or facing other life-threatening emergencies associated with home heating systems.
Three years ago, Heat's On fixed a furnace for a veteran who survived the polar vortex without heat in his home. In 2017, the program replaced the furnace of a World War II veteran who had been taken to the hospital twice with carbon monoxide poisoning. The leak in the furnace that was causing the poisoning was discovered and fixed by Heat's On.
Heat's On will kick off the event at the Steamfitters Local 601 Training School at 6310 Town Center Drive, Madison, WI, starting with breakfast, provided by Gaylord Catering, for the service technicians at 7:00 a.m.