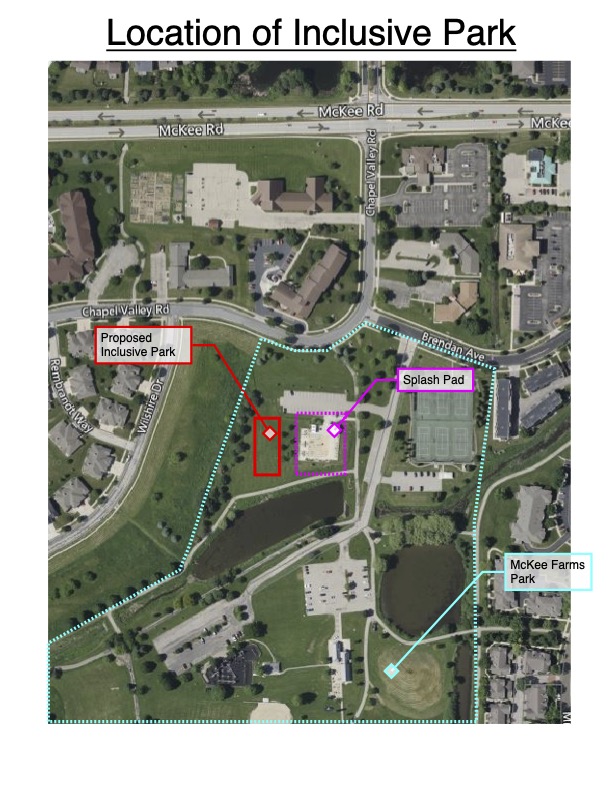 Oak Bank has joined the community effort to expand McKee Farms Park to include a playground that is inclusive for all, including children with disabilities by contributing $10,000 to help fund the project. The playground will allow families with physical or sight limitations to play and interact together with other kids and families from the community.
McKee Farms Park will be Dane County's third all-inclusive playground; the city of Madison has Brittingham Park and Elver Park. An estimated 5,500 children who receive special education services in surrounding area schools will benefit from the new playground.
"We've been committed to the growth and development of McKee Farms Park for more than two decades, so we are thrilled with the expansion happening today and honored to play a small part in supporting families in our community," said Bob Gorsuch, Oak Bank Founder and Chairman.
Construction began last fall following the city of Fitchburg's initial commitment of $130,000 of park development funds for the project. Private and corporate donors, including Oak Bank's $10,000 gift, have contributed over $77,000 so far. The Optimist Club is still raising funds for shade structures, landscaping, safety signage, and picnic tables.
Similar to the splash pad addition at McKee Farms Park in 2013, the Fitchburg Optimist Club is leading the fundraising campaign.
"Oak Bank has supported many community projects in Fitchburg over the years, and we are so thankful to them for being a big part of this inclusive playground," said Jake Johnson, Fitchburg Optimist Club president. "The playground will be yet another place for families to gather and where kids can play together with their families and friends."
The 4,000-square foot addition is expected to be complete by Memorial Day. Individuals and companies are encouraged to contribute to the McKee Farms Park inclusive playground by contacting the Madison Community Foundation.