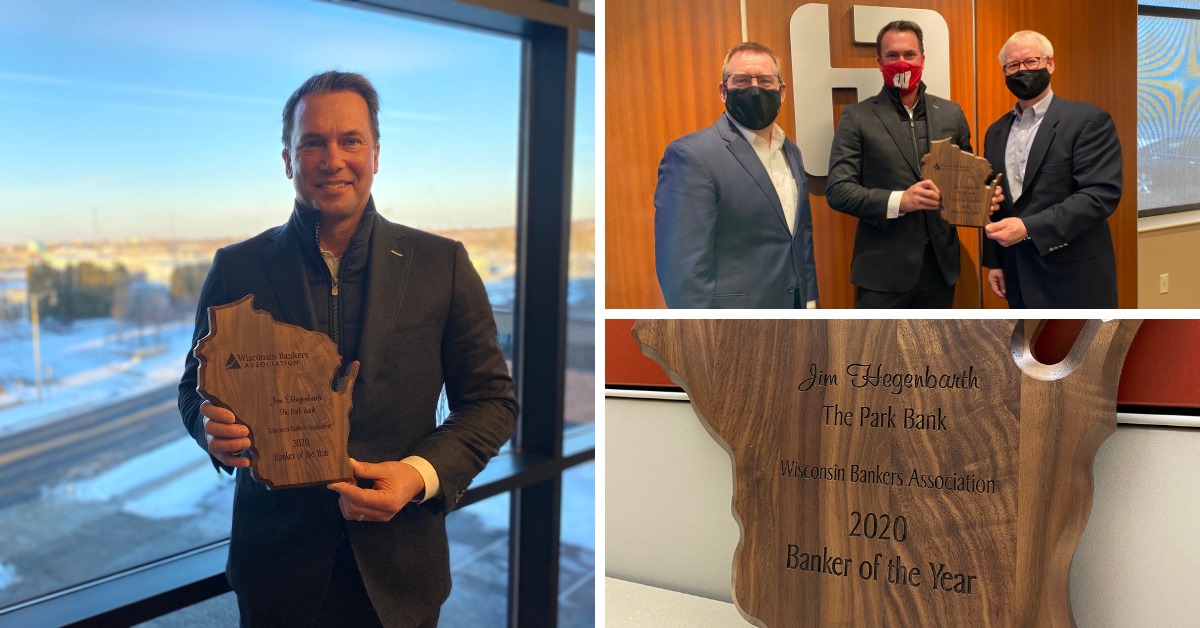 President and CEO of the Park Bank Jim Hegenbarth has been honored as the 2020 Wisconsin Bankers Association Banker of the Year.
Hegenbarth's dedication begins with Park Bank, but it extends to his community and the banking industry as a whole. He has developed the bank's Strategic Planning team, their leadership program, and their DEI Committee for which he served as the initial senior sponsor. His role in the recruitment of many important sales leaders led to the Bank's greatest period of growth, and with Hegenbarth's leadership, ROA improvement also grew by over 20 basis points since 2017.
Community involvement is an important part of Hegenbarth's work as well. He serves on multiple local committees, including the American Family Children's Hospital Board, the State of Wisconsin Department of Commerce Institutional Review Board, and the Town of Madison Revolving Loan Fund. He has served numerous roles throughout the industry, including as a past Wisconsin Bankers Association Board Member, WBA Government Relations Committee Member, a Federal Home Loan Bank – Chicago Board Member, an American Bankers Association FHLB member, and as a past member on the ABA Community Bankers Council.
"When I found out I won the WBA Banker of the Year award, my first thought was that this isn't my award – this is my team's award," said Hegenbarth. "I'm honored to accept this award on behalf of my entire team at Park Bank. They didn't just survive 2020 – they excelled in everything they did, which is truly remarkable given the tumultuous year. I stand in great company with past winners of this award, and am humbled to have received it, particularly during a year when many other banking leaders in Wisconsin have demonstrated their commitment to their communities."
Hegenbarth was recognized at the Wisconsin Bankers Association Bank Executives Conference, the largest banking event in Wisconsin, for his commitment and leadership to his staff, bank, and community.
"To be named Community Banker of the Year means showing an unparalleled commitment to your bank, your community, and the industry as a whole," said WBA President and CEO Rose Oswald Poels. "We at WBA recognize Jim's many achievements and are proud to honor him with this prestigious award."
Congratulations Jim on this well-deserved honor!