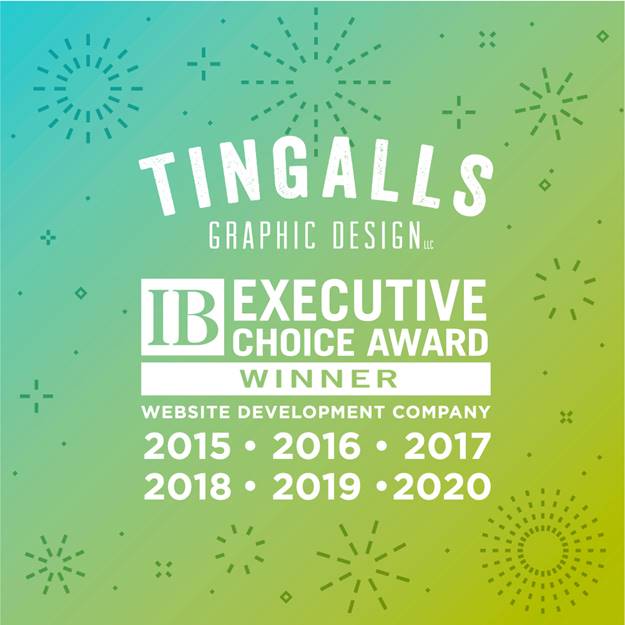 Tingalls Graphic Design, a boutique marketing and graphic design agency in Fitchburg, won the prestigious InBusiness Magazine's Executive Choice Award for Best Website Development Company in 2020. This is the firm's sixth consecutive win in this category.
Each year, winners are determined by a majority vote of write-in ballots from 1,000 Madison executives, business owners, and decision-makers. The award honors businesses across various industries for excellence and proven success in a spectrum of categories. Tingalls was up against many well-established web development agencies as well as some newcomers in the industry. Tingalls Owner and Creative Director Tara Ingalls said that though Tingalls is a small firm, her team gets their strength from big ideas and a determination to deliver fantastic results.
Tara expressed her appreciation for being chosen as an Executive Choice Award winner. She said despite the devastation the COVID-19 pandemic has had on businesses (including her own), she is feeling grateful. Grateful for not only her team but also her diverse and loyal client base. "My staff wasted no time getting set up at home to assist our clients with website edits, email blasts, and signage so they could communicate to their customers how they were handling the crisis," she said.
The Tingalls team also quickly positioned themselves to better serve their customers by offering several new low-cost website platforms and flexible payment plans. "We created a 'no payments for 90 days' option for start-ups to help ease the financial barrier of promoting themselves online. We are very proud to be a part of the strong entrepreneurial spirit in the Madison area," Tara said.
The strategy paid off. Not only did Tingalls celebrate their 20th year in business in 2020, but they also saw a significant surge in demand for website design. In fact, they produced 36 new websites, including a revamp of their own site - www.tingalls.com. "We decided to update our site to not only reflect the new year but also to share all the new brands we created this past year," Tara said.
"Now more than ever, small businesses need to invest in and expand their online presence," Tara added. "As 2021 kicks off, it's the perfect time to strategically position your business in this new 'online is everything' marketplace. We're here to offer inspiration and support for local businesses' marketing and web development needs in 2021 and beyond.