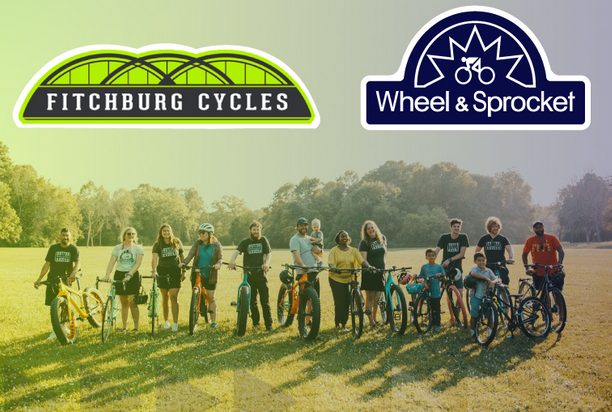 Wheel & Sprocket, rated one of America's Best Bikes Shops, recently announced that they will open a new location in Fitchburg! The family-owned, Wisconsin company has purchased the assets and inventory of Fitchburg Cycles from long-time owner, Edwin Benet.
Fitchburg Cycles, a 7,000 square foot bike shop, located at 2970 Cahill Main #101, will mark its last day of business on June 30th, 2022. The current shop will reopen as Wheel & Sprocket July 7, 2022. An official grand opening and chain cutting ceremony will take place on Wednesday, July 27th from 4pm-7pm- all are welcome to attend. This is Wheel & Sprocket's second bike shop in the Madison market, following the 2018 opening in Middleton.
"We're excited to be coming to Fitchburg," said Noel Kegel, President of Wheel & Sprocket. "We believe in sharing the power of Bikes for Everyone, whatever their ability or ambition. We hope to inspire many more people to ride and to help make Fitchburg and greater Madison even more bicycle-friendly." Continuing, "we are committed to supporting the local bicycle community by delivering great products and services, following through with greater bicycle advocacy and education, and partnering with local and statewide organizations to put on great events," said Amelia Kegel, co-owner of Wheel & Sprocket.
Edwin Benet, of Fitchburg Cycles adds, "as the owner of Fitchburg Cycles, I am thrilled to be partnering with Wheel & Sprocket to expand the business I started almost ten years ago: to offer our community the best bike products and services.
This merger is great for our customers, our community, and everyone associated with our shop. Kudos to Wheel & Sprocket for their commitment to Fitchburg and to bicycling!"
Wheel & Sprocket employs over 250 people throughout Wisconsin and Illinois and is currently hiring at the new Fitchburg location. With competitive starting wages, health care and retirement benefits, and a bike-to-work program, Wheel & Sprocket is proud to create career opportunities for people in the bicycle industry.
For additional information about Wheel & Sprocket and employment opportunities, please visit the company's website.
About Wheel & Sprocket
Since 1973, Wheel & Sprocket has been serving the community and has grown from its original Hales Corners, Wisconsin location to include a total of twelve locations in Metro Milwaukee, Wisconsin's Fox Valley, Madison, and Chicagoland. Wheel & Sprocket is family-owned and operated, and employs over 250 people who have a passion for bicycling. Over the years, Wheel & Sprocket has been recognized as one of the best independent bicycle retailers in the country and has been included as one of America's Best Bike Shops for over two decades. Community action, engagement, and political advocacy is also an integral part of the company culture, including support for over one hundred bike-related events each year.