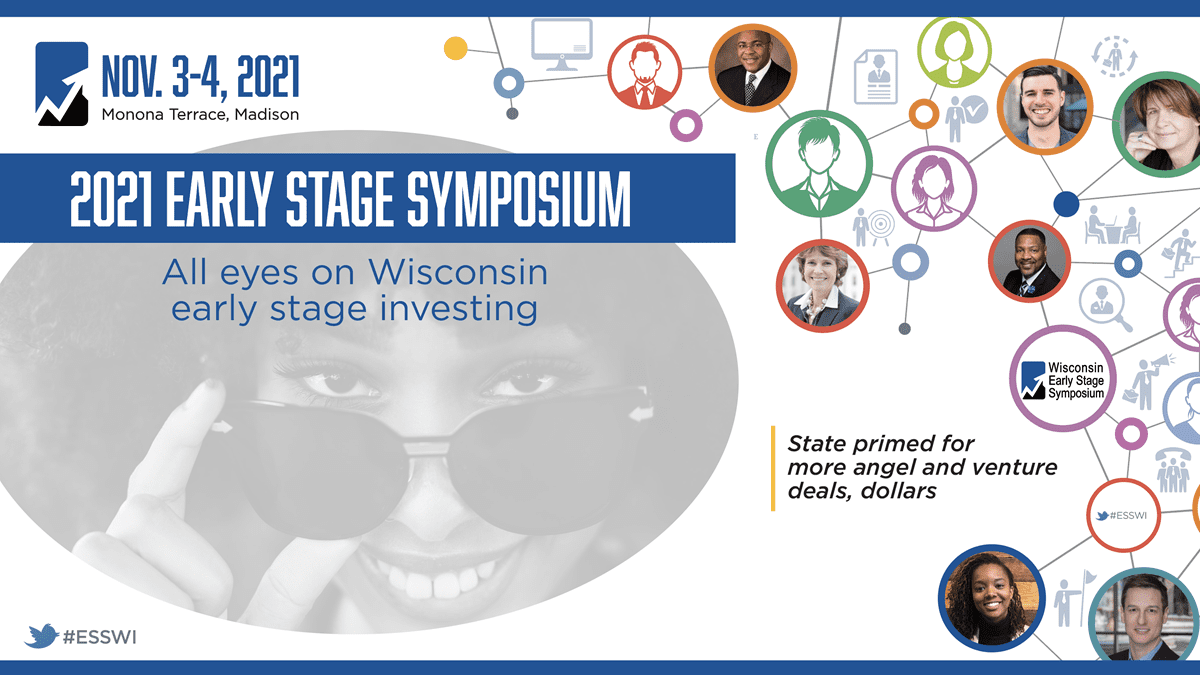 Thirty-eight young companies will pitch to potential investors and others throughout the course of the in-person Nov. 3-4 Wisconsin Early Stage Symposium at Madison's Monona Terrace Convention Center.
General registration is also now open by clicking here!
That includes 23 companies selected by conference organizers to present Nov. 3 during the Tech Council Investor Networks tracks and 15 more picked for the fast-moving Elevator Pitch Olympics on Nov. 4. About 60 companies from across the Midwest applied to present at the annual conference or to meet with investors through the Investor Intros track.
The Tech Council Investor Network tracks will feature companies making five-minute presentations during two sessions, morning and afternoon. Selected TCIN companies cover a range of technologies, from industrial materials and processes to medical devices and digital health solutions, and from time-saving software to renewable agricultural products.
Read a short description of each company for the TCIN track on the "Presenting Companies and Investors" page at wisearlystage.com. Selected were:
Advanced Ionics – Milwaukee; Altruize by LetsTHRIVE360 – Beloit; Atrility Medical – Madison; BIOIONIX – McFarland; Blue Line Battery – Beloit; BoothCentral – Milwaukee; Cellular Logistics – Madison; COnovate – Milwaukee; Driftless Extracts – Plain; Estrigenix Therapeutics – Wauwatosa; Hoplon – Mequon; JangoBio – Madison; MPOWR Envision – Rockford, Ill; Otologic Technologies – Madison; Plumb Pharmaceuticals – Madison; Polco – Middleton; Printed Aerospace – Janesville; RedFox AI – Madison; Sift Healthcare – Milwaukee; SmartWell – Fond du Lac; Speakfully – Eau Claire; VibeTech – Sheboygan and Zihi – Madison.
The 15 companies selected for the Elevator Pitch Olympics will deliver 90-second pitches and be scored by a panel of investor judges. In addition to the judges' feedback, participants will also be scored by members of the audience for selection of a "People's Choice" award. Taking part in the Elevator Pitch Olympics are:
BlueChip; Clock'd Staffing; Edu Reality; Flip Outfit; GlobaLASEReach; Internship on Demand; RCMK Industries; ShopRocket Group; SpayVac for Wildlife; Trajektory; Wisconsin Mujer; WorkShift; XYLOME; Yam Education and YEVMA.
The conference will feature many other opportunities, including:
The "Investor Intros" speed-dating segment, which will include nearly 60 companies.
Panel discussions and educational seminars featuring leading entrepreneurs, investors and others tied to the tech sector.
Keynote speakers Nathan Herbst and Joel Fields, CEO and CFO of Paradigm, which exited this year for $450 million; and founders of the Milwaukee-based Young Enterprising Society, Khalif and Que El-Amin.
A conversation with startup attorney and mentor Joe Boucher, the winner of the "Excellence in Entrepreneurial Education" award.
Exhibit hall showcasing innovative Wisconsin companies.
A Nov. 3 conference reception, two luncheons, two breakfasts and other networking opportunities, including an investors-only dinner.