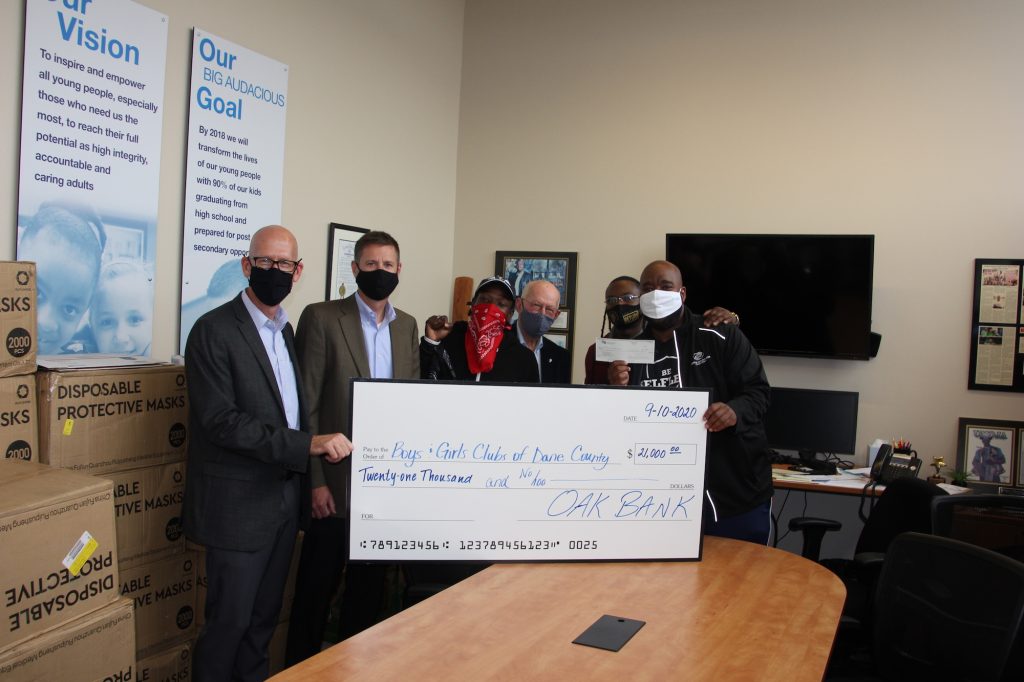 Oak Bank recently donated $21,000 to the Boys and Girls Club of Dane County to provide support to local students and their families with food, school supplies, and access to technology during this unprecedented time.
The donation is a combination of Oak Bank's Community Giving Fund and Federal Home Loan Bank of Chicago's (FHLB Chicago) Targeted Impact Fund. The FHLB Chicago Targeted Impact Fund provides bank members with grants to support relief efforts for the populations hit hardest by COVID-19 as well as to promote equity and opportunity for communities of color.
"We knew exactly what needed to be done with the grant money. It should be given to a valued resource in our community that could use the funds to make a real and immediate difference," said Bob Gorsuch, Oak Bank CEO. "The Boys and Girls Club of Dane County is a lifeline to so many. We are honored to play a small role in helping to make our community a better place."
"We are grateful for businesses, like Oak Bank, that show our community support by helping us to provide for young people with resources like face masks, nutritious food, emotional support, and necessary supplies for virtual learning. Especially now during this pandemic and the social unrest happening locally and throughout our country," said Michael Johnson, Boys and Girls Club of Dane County President & CEO.
Earlier this summer, Oak Bank also received a $20,000 FHLB Chicago COVID-19 Relief Grant that was distributed among 12 different local non-profits.