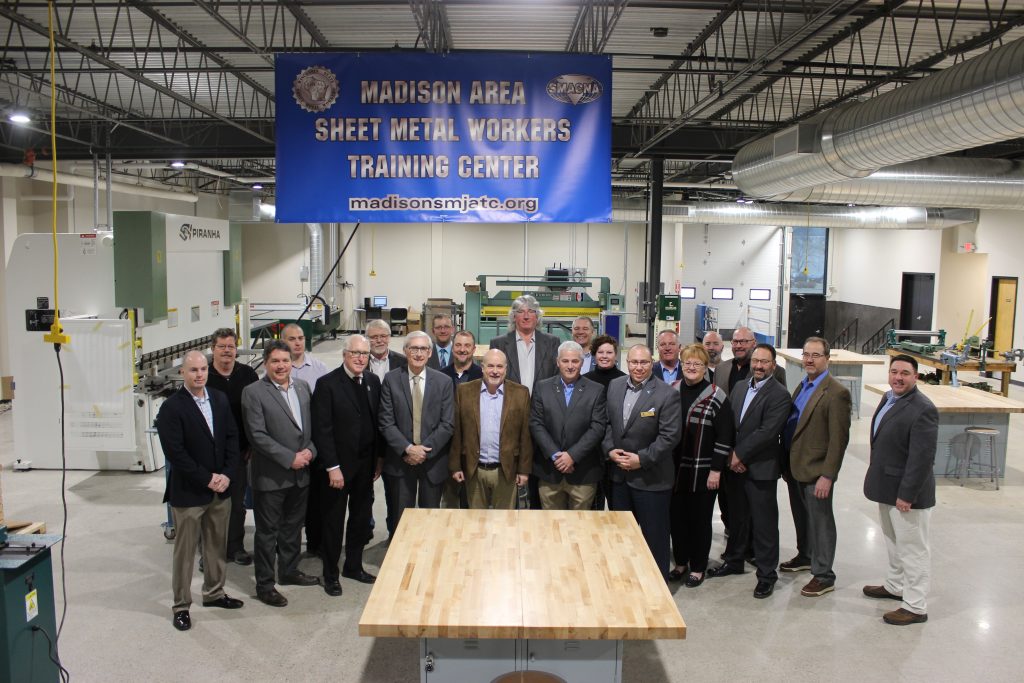 Madison Area Mechanical and Sheet Metal Contractors Association (MSC) and Sheet Metal Workers Union Local 18 hosted Governor Tony Evers, Congressman Mark Pocan, and State Representative Gary Hebl for an exclusive tour of the new Sheet Metal, Air, Rail, and Transportation (SMART) Training School on Friday, December 13, 2019, MSC Executive Director Julie Walsh announced on Friday.  The new Training School is located at 150 Communications Drive, Sun Prairie, WI.
The Sheet Metal Air Rail and Transportation workers (SMART) Local 18 partnered with MSC's Sheet Metal Contractors to build the new Training School which officially opened their doors on October 2, 2019.  The new facility trains Madison and Janesville members, including approximately 100 apprentices and will provide continuing education for over 300 Journeyworkers, in the Dane, Columbia, Sauk, Rock, Green, Iowa, and Lafayette counties.
The facility is approximately 25,000 square feet with fifty percent of the space serving as classrooms, labs, and offices, and the remaining fifty percent is the shop and welding booths.  Most of the interior of the building was gutted and remodeled which was done completely by Union laborers.  The remodel was completed on time and under budget.
Members of SMART Local 18 voted to take an additional $1.00 per hour off their wages to fund the new Training School.  This is $2,000.00 per member per year that has been allocated to build the Training School.
The funding that pays for the training program is completely through membership.  The voluntary funds from members of SMART Local 18 to provide training for apprentices and Journeyworkers are allocated to the local Joint Apprenticeship Training Trust Fund.  This Trust Fund is administered by an equal number of trustees from the Union and from the MSC Contractors.  There are no taxpayer dollars used for this Training School.
The Sheet Metal Trade consists of many different skill sets including, but not limited to, Heating, Ventilation, Air Conditioning, and Refrigeration (HVACR), as well as Architectural and Industrial Sheet Metal.
For more information on Sheet Metal Apprenticeships, visit http://www.mechanicalindustries.org/sheet-metal/
For more information on MSC and SMART Local 18's new training school, please contact Julie Walsh, Executive Director at 608-288-1414 or julie.walsh@mechanicalindustries.org.