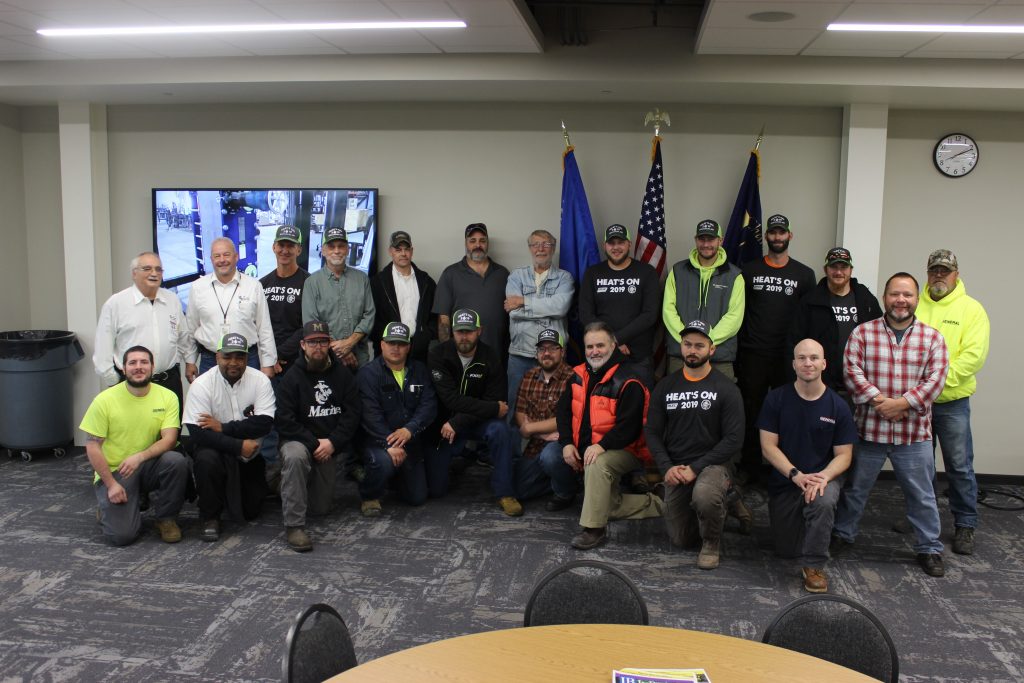 Madison Area Mechanical and Sheet Metal Contractors Association (MSC) and Steamfitters Local 601 had over 60 members service nearly 60 homes of veterans at the 32nd Annual Heat's On event on Saturday, October 19, 2019.  All furnaces are working great, and there were no carbon monoxide leaks discovered during this year's event.  There are a couple of follow-up maintenance services that All Comfort Services and General Heating and Air Conditioning are taking care of this week.  All of the labor and supplies for the furnace checks and repairs were completely complimentary to the veteran homeowners.
"It's a great service," explained U.S. Army Veteran Scott Hensel.  "Just having the peace of mind that the furnace is working right, and you don't have to worry about the carbon monoxide dangers and stuff because the furnace is tuned up and working the way it should."
The three-decades old event, Heat's On, has checked and serviced over 2,600 homes in Dane County since its inception in 1987.  The event originated when two elderly individuals froze to death when the temperatures dropped because their furnace was not working properly.  The association and local union originated the program to assist the poor and elderly to stay warm throughout the winter.  In 2015, Heat's On began checking furnaces for veterans.
During this year's event, five local contractors, 1901, Inc., All Comfort Services, Bassett Mechanical, General Heating and Air Conditioning, and Illingworth-Kilgust Mechanical, provided trucks for the technicians to use to service the furnaces.  Design Air, First Supply, Gustave A. Larson, Industrial Controls, Johnstone Supply, and Temperature Systems Inc. are the supply houses that donated the materials used to repair any broken furnaces.  Temperature Systems Inc., First Supply, and Gustave A. Larson each donated furnaces if any needed to be replaced.
"We were overwhelmed with the outpouring of support from our local steamfitters, member contractors, and supply houses for this year's Heat's On event," explained MSC Executive Director Julie Walsh.  "This continues to be my favorite day of the year!  When the chill is in the air and we start to see the leaves changing while we gear up for Heat's On, everyone immediately asks how they can help.  We had a record number of steamfitters volunteer to participate this year, and the support from everyone involved warms my heart.  Heat's On continues to grow even after 32 years, and we cannot wait for next year's event."
The service technicians volunteered their Saturday morning to service the veterans' furnaces.  Many of the technicians have participated in Heat's On year-after-year, some of whom are veterans themselves. This year's event had 23 veteran members of the Steamfitters Local 601 and organizations affiliated with Heat's On that participated in the event and helped keep their fellow veterans warm this winter.